The doll was $175, edition size 10,000 units worldwide. I didn't believe that Barbie had such capacity to sell 10,000 units at $175 when the doll was released.
Last week the price went down to $52,   so I ordered one, I must confess I wouldn't have ordered her if her original price was $52.  it was a different story when the price dropped from $175 to $52— it felt like a crime if I missed such  a great deal.  I am sure many people have the same shopping behaviors,  the big sales always does its tricks.
I don't know how expensive the "license Fee" is, but the doll is not a $175 doll,  The plain face and  simple dress with ruffled train make her just another "Barbie" that you wont miss her if you don't have her.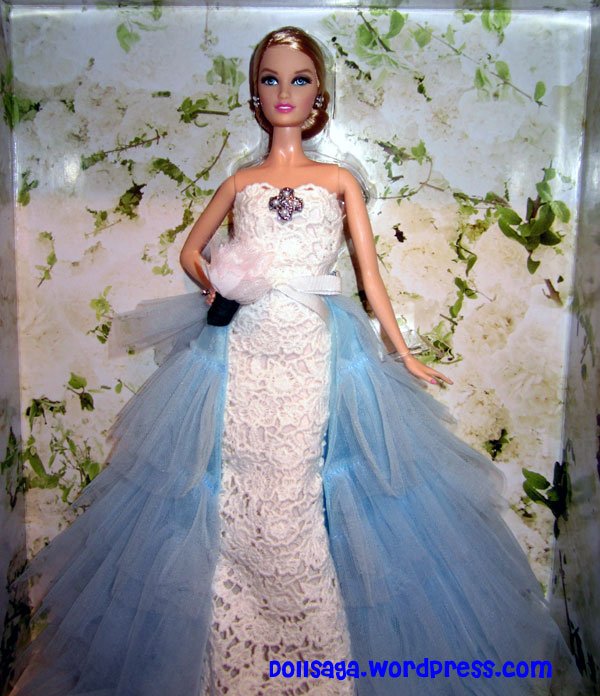 The Box is nicer than the regular Barbie Box, it comes with a lacer cut sleeve– its not really practical if you intend to display your doll.   The similar boxes are retailed for  $7.99 in the stores near me, so I don't think  the box cost Mattel a lot to make.   however, the shipping charges  (both international & domestic) cost a lot more.  The little doll itself is 4 OZ, but  its nearly 5 lbs  if you count the box & its shipper.  Mattel shipped the doll with the shipper and a carton,  the whole package is 6 Lbs –I shipped a 6 lbs package last week from NY to AZ, the postage was $23.51.
you perhaps remember that   I made the dress in  last  April
PS: My Favorite  Barbie Bride is Reem Acro Barbie,