Fraternity Dance
Posted by Helen on May 21, 2021
Hello, Everyone, long time no see!

This is a repainted "Best In Black" Barbie doll.
Barbie doesnt have to be always in Black, she looks vibrant in Colors!

Making this vintage-inspired  "Fraternity Dance" dress isnt the most difficult job, the pain is that you have to find 3 pieces of chiffon in 3 different colors, a piece of lace, pink & white polyester linings…


if you bought so many pieces of fabric to make only one dress, it wouldnt be cost effective. Perhaps I should make a blue dress with green & pink sashes  and a green dress with blue & pink sashes

I'll have to get busy and find good use of all the fabrics I bought!  We may need to sell some extras online.  Barbie & I have decided to retrieve our abandoned Etsy Shop. Please come to boost our shop's traffic when you have time: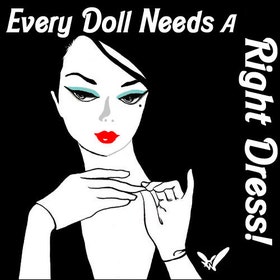 https://www.etsy.com/shop/dollsaga/sold
Have a great Weekend.
Sorry, the comment form is closed at this time.