Street Style
Posted by helen on September 3, 2017
I bought 3  "Fashionistas" Dolls  a couple of months ago,  they all have colorful hair
The first one is the  "Curvy"  #27  with blue/black hair.  A lot of glue in her head –she knows well that I hate glue, so she has  gone voluntarily  missing .. I never bothered to look for her.
The 2nd one is the Petite, she  has pink & blue hair.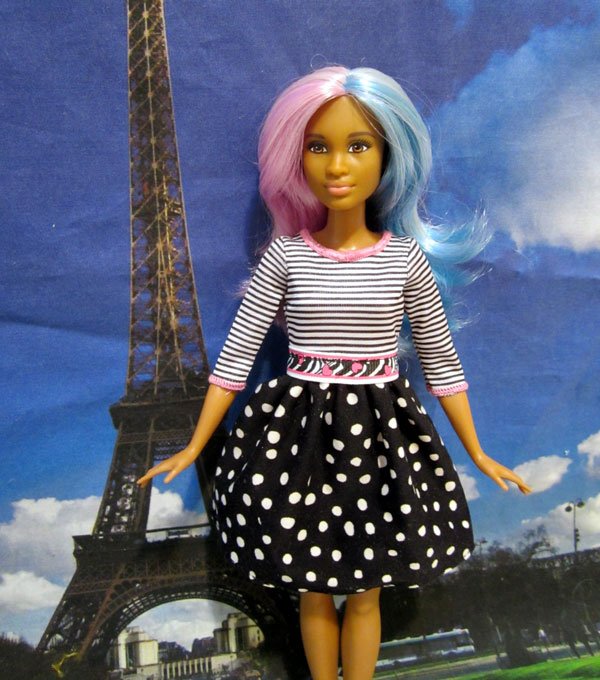 the 3rd one is Tall #60, she has peachy hair, she got a little more attention from me, I made her a new sweater dress.  She has a very stiff body, her arms & legs don't bend, she has flat feet,  she is not poseable.
I like the color of her hair. I think she looks more "Hippie & Happy"  than the new "Happy Hipster" doll.
When Collector dolls' prices keep going up, Mattel has kept play line dolls' prices low. Fashionistas dolls are priced around $9.99,  and they often go as low as $6.99 in the discount stores.  if you don't mind damaged packages, you can find them $4 at "Amazon Warehouse Deals"
"Fashionistas" Dolls used to have articulated bodies, but now they all have odd & stiff bodies such as "Curvy" "Petite"  "Tall",  all the bodies look awkward.
if you like to Pose your doll,  then "Made to move"  dolls are the right choices,  prices are between $12.99 to $16.99,  playline doll prices are 10 times more reasonable than collectible dolls.  you see, I could have purchased the new Sorcha doll  at $60 (MSP $100), but I didn't order her,  I would rather buy 6 Fashionistas Dolls from my local discount stores…
2 Responses to "Street Style"
September 5, 2017 at 6:24 am

It is just a pity the playline are not better quality. Lovely sweater dress.

September 5, 2017 at 9:28 am

the only good news is that some of the new Fashionistas don't have glue in their heads. these 2 dolls are bought from my local stores, I made sure they don't have glue. the missing "Curvy" blue head came from Amazon, I didn't have a chance to check.
Sorry, the comment form is closed at this time.