Many of us have troubles to navigate Barbie's website or access  the BFC board. but why?
the simple answer is: Badly implemented scripts and zillions of adware tracking cookies make your web browser unable to cooperate with the site.
lets take a  few bad examples
The page does not display properly
2. The page is not found  –oops! after oops!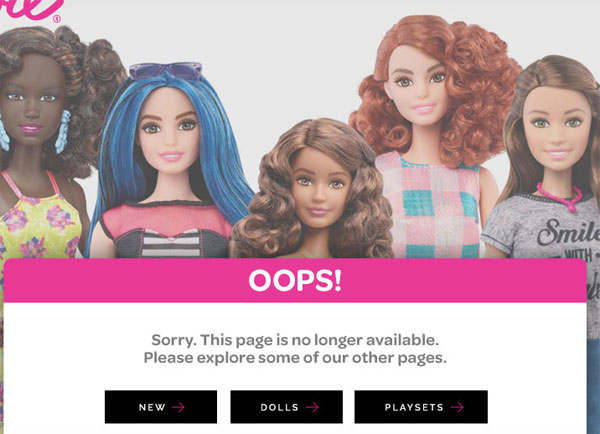 3. Page found, but contents are hidden:   the words  "the Barbie Bulletin Board" are all you see.  The discussions & photos  are behind closed doors… how can I "connect with fellow Barbie fans" if the doors & windows are  closed.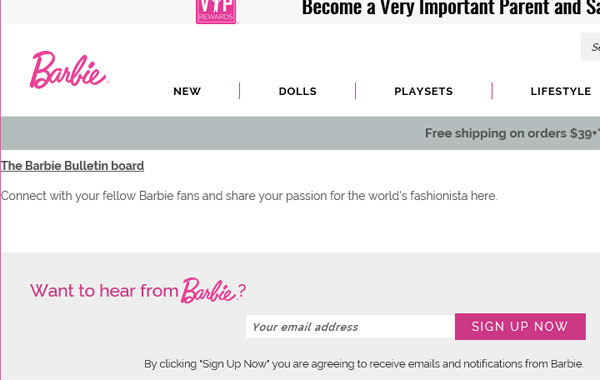 4.  "please wait while we process your request… "  wait for what?  —The dead end. You can wait until your hair tuning into grey, nothing is going to happen.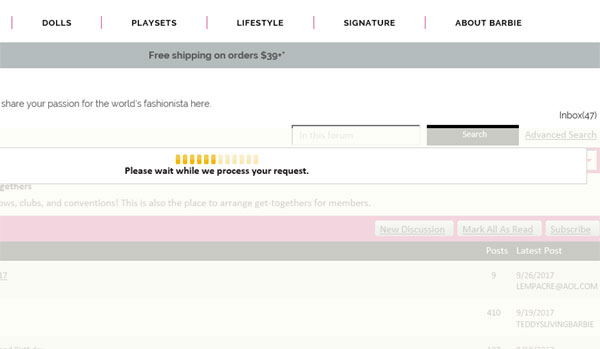 Script errors & Script errors: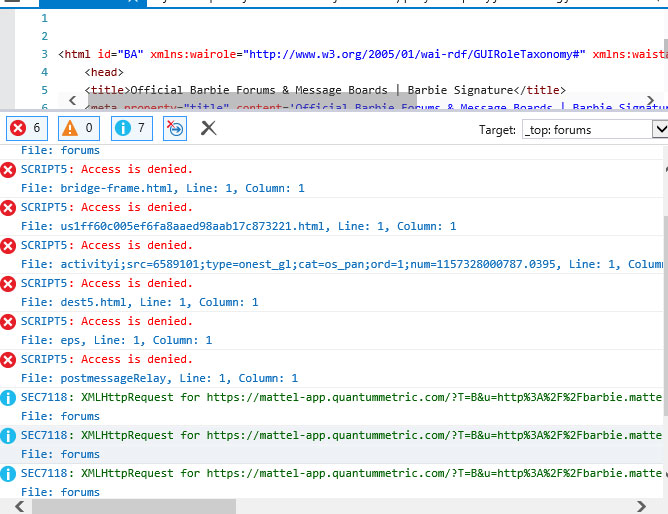 According to "Nibbler",  a free web testing tool,  Barbie's "Code" quality is rated 0.8 out of 10. more than 2000 errors were found on the five 5 pages tested.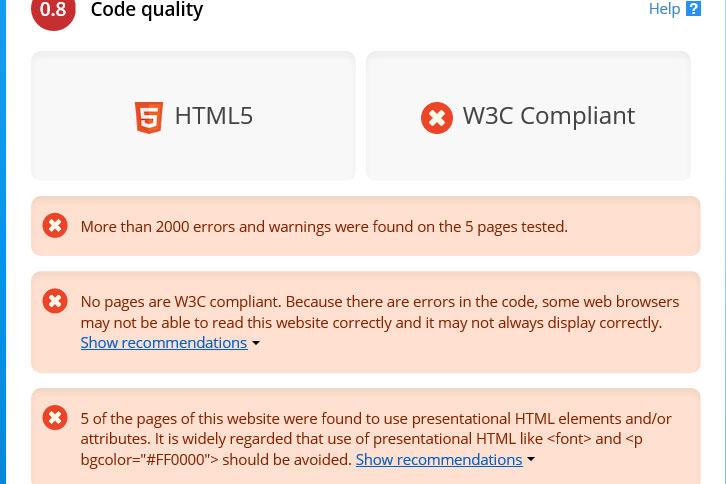 Barbie can't code a website  –that's not new, we knew it 4 years ago when she openly admitted that she needs Steven & Brain's help with coding
however, Barbie is a great spy.  She puts tons of   Adware Tracking Cookies in your browser…   the long list below only shows  some of  her tracking cookies I  blocked:

 I think she can make living by selling the information she collected, but she said she would not sell you down the river.  Take a look at a  part of Barbie's  Webpage  "Privacy Policy" — NO,  Barbie did not write these policies, its written by the Geo.yahoo that offers Barbie tracking services,   Barbie adopts the policies when she plants its cookies in your browser
Barbie has dozens & dozens of adware tracking cookies, notorious doubleclick, Adteches, etc. are all among them, check out their privacy policies when next time you visit Barbie's website.
Adware and tracking cookies make your web browsers' performance horrible,  that's why many of us can not browse the BFC forum and Barbie website without glitches.  the more you guard your privacy, the more difficulties you have with the crappy site. as you can see, I have a long block list..
how these tracking cookies help Barbie to make sales grow?    I see Warnings from my IE browser all the time: "Mattel wants to track your physical location, allow it once?"    I asked: "What differences does it make if I'm in New York or Shanghai, my shopping cart is locked,  I cant buy anything anyway"  — oh, not really,  I figured out a workaround to complete the check-out process, its better Barbie does not know how I did it,  she wont like it.
Is Barbie capable of logic thinking?! no, she is plastic.