Happy August!
Posted by helen on August 1, 2017

August arrived faster than I expected. although its quiet in my household, Barbie made a couple of summer splashes.
Mattel re-launched its website & Barbie Fan Club, now its a  big Salad plate, from hot wheel to Barbie, all-in-one under Mattel.com
A new Brand  "Barbie Signature" replaced  "the Barbie Collection" , from Barbie Collectibles to Barbie Collector, then Barbie Collection, now  "Barbie signature",  you can clearly see the mindsets of  the past & present  marketing strategists.   "Barbie collectible" focused on doll quality, something nice you want to collect.  "Barbie Collector"(BC)  was more customer-oriented,  the marketers wanted to create customers emotional attachment;  The Barbie Collection said "everything goes, you buy whatever we throw on you".  Barbie signature"(BS) is  very egocentric,  the Marketers really believe they can rely on the brand influences to attract customers. lets wait and see if  they will find a Billboard that's large enough for Barbie to put up her  signature.
Each time they change the name,  the sales would drop significantly.  each time the sales drop, they would change the name.  who believes the BS marketers can not do better than BC marketers?
Besides the name changes, the structure of the Fan club also changed.  it now has 3-tired membership:  Platinum,  Gold & Pink. basically, its an old "Buy more Save more" program Mattel loved to use before..
Platinum Membership: membership fee is  $34.99,  for every 3 month, you get $30 discount if you place an order of $100 or more and all the items of  your purchase are BS items, not playline items like Fashionistas. you have access to club Forum and club dolls, you also have earlier access to new dolls — for example, the new Sorcha doll is now available for Platinum members to order, the other costumers have to wait for a week –its a blessing for non-platinum members, b/c the later you buy, the cheaper you get.  99% of the BS dolls take 3 years or longer to sell out.
Gold Membership: membership fee is  $19.99,  then for each 3 month, you get $20 discount if you place an order of $80 or more and all the items of  your purchase are BS items, not playline items like Fashionistas. you have access to club Forum and club dolls.
Pink Membership: Free. you get 20% off on your first order. you have no access to forum or club dolls. however, the forum is not as secure as Mattel thinks, anyone can access it, it just takes a few more clicks.  Mattel's websites have always been a big mess. the Tech support is from India.  if you have problems with the website and call BS',  the Customer Service Reps cant solve your problems, they have to consult with Mattel's "Team India", but India sleeps when you are awake.   Many customers  have password/log-In  problems , some have tons of items in their shopping carts that are not removable, some log in  under other people's names…
if you are not interested in buying club dolls, you don't have to join the club. b/c $30 or $20 reward isn't big deal, you can buy dolls from somewhere else at better prices. for example, when Walmart website offered the $175 Oscar De la doll for $52, you saved $123. and you don't have to spend $34.95 membership fee.   the club forum is almost dead, not active, not informative, there are plenty better online groups you can join  for free.
I have not joined the club, perhaps later this months  before the platinum Pink Fringed gown doll comes out,  I'll buy Gold membership.
The other big event was Barbie Convention in July. however, I no longer attend conventions.
The next years convention theme is "On the Avenue with Barbie", Here is my August Calendar, On the Ave with Barbie in a hot summer day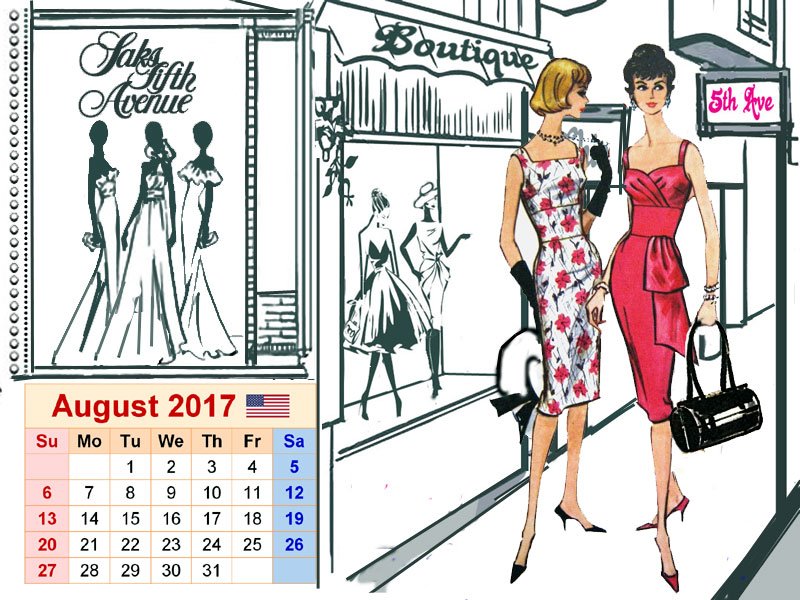 Wish everyone a happy August.
3 Responses to "Happy August!"
August 1, 2017 at 5:24 pm

Hi Helen, I really appreciate your insight into how things are working at above company. You've been around these things longer than I have and I find it valuable to read your thoughts.

Your August calendar is just tops. The outfits the gals are wearing are summer perfect. Thanks for all you do.

Becky

August 1, 2017 at 6:37 pm

Thanks Becky. I was pretty mad at Mattel, b/c I have not been able to log in my Mattel Account since May, 2017. I had to buy as a Guest. but I finally unlocked my account today. I know a lot of people are still struggling with their passwords. 🙂 they cant even run a website smoothly, how can you expect they sell a lot of Barbie? New York Times reported that Barbie sales dropped again in the 2nd quarter of 2017.

I Just found out Mattel has silver & gold "Value membership", its very confusing that so many memberships for different products under one website. pretty bad management style.

August 2, 2017 at 7:13 pm

I Just heard the $30 or $20 reward must be used on dolls with regular prices, if you use Reward on already discounted dolls, you will get "partial reward". Your final price is the Regular price minus your reward. for example, if a doll's regular price is $100, but discounted at $90, and you use your $20 reward on it, your price is not $90-$20=$70, but $100-$20=$80.
Sorry, the comment form is closed at this time.