If it seems too good to be true…
Posted by Helen on June 9, 2017
I believe a group of  scammers has started new plots on eBay to scam buyers.
Last week, there was a listing for 5 brand new NRFB Blush & Gold Silkstone Dolls, the  price was $44.99 each, with free shipping , the seller is brand new with "0" feedback and a strange eBay ID  that the scammer himself wont remember after he pockets buyers money.
3 days ago, a similar listing showed up,  also for 5 brand new NRFB blush & Gold Silkstone Dolls,  the price was $16.99 each with free shipping.
Blush & Gold is a newly released doll, MSRP is $100 each.  so these "Brand New" sellers have no problem to quickly sell off these dolls within hours.
"If it seems too good to be true,  it probably is" ,  buyers  know it, but some of them think "What do I have to lose?  PayPal or eBay will refund my money if I don't get my doll"
Here is what you will lose:
Time: you wait for ages but don't get the doll, the scammers use your money to run more scams.  you may get a package with a Tracking number but without the doll you paid for.  do you want to open a dispute? sure,  go ahead,  play more waiting game,   eBay or PayPal needs time to decide who is the liar. the scammer say you are, you say the scammer is…
 Personal Information:  the Scammers have collected your name, address, phone number and eMail. they will keep selling your information on black market again, again & again… it also could be the beginning of Identity theft. the perpetrators will try to reroute your Mail, hack your eMail accounts… there are a lot of things they can do with these information.
This is not only happening on eBay,  MANY newly opened online stores  do exactly the same.  these scam stores even buy Google ADs, when you buy Barbie, these scammers' ADs show up on your screen: don't want to pay more? the same doll is now 50% off on the scam site…
I have found at least a dozen of  such scam stores, here is an example:  there is a phishing  "Barbie Store" website (yep, the website is called "Barbie Store", I wont post link to boost these Scammers business) –this website copies all Mattel's webpages,  its prices are 50% off Mattel's original prices.  shipping is free.  you can find all the collectible Barbie dolls.
I did a little online digging, found the site is newly registered on May 17, 2017, its expiration date is May 17, 2018.  the address listed under "Contact Us" is a vacant residential house in NH, no one lives there.  the contact email is Gmail.
I reported to Mattel via eMail, but Mattel is a big company, my eMail may get lost in thousands of eMails.
I'm warning all the online doll shoppers: Shop Smart.   Use your common sense when you buy from individual sellers.  Be logic: Why would  a newly released doll's price fall from $100 to $16.99 with free shipping?  $16.99 is not enough to ship this doll from New York to California via Priority Mail.  not to mention 10% eBay Fee and 2.9% PayPal charge the seller has to pay.  so the seller is not selling you anything, you are selling your personal information to the seller.  you don't get the doll but frustrations.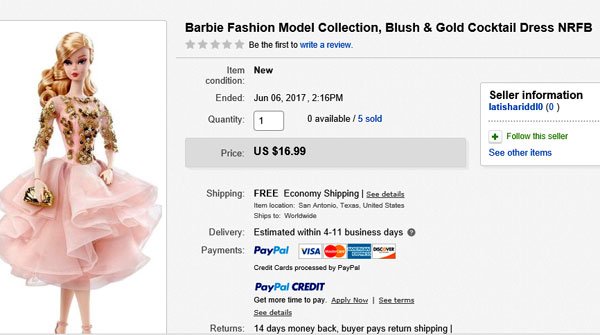 People who paid $16.99 probably think $16.99 isn't a big deal, its not even worth fighting with PayPal to get the money back –see, that's why scammers keep doing it, b/c they know they can get away with it.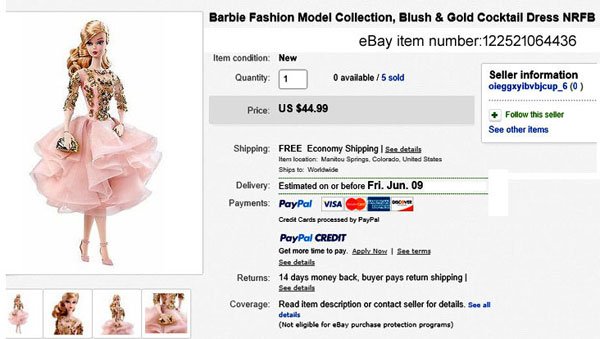 11 Responses to "If it seems too good to be true…"
Sorry, the comment form is closed at this time.