Cosmos Couture
Posted by helen on March 26, 2017
Although yesterday was "Earth Day", we went far beyond the Earth & reached the Sun, Moon & Mars…..
Red Moon or Blue Moon? The Planetary Dreamer is ready to explore the universe.

I purchased this Cosmos Fabric online without knowing the scale of the Pattern. The pattern is too big for a little Doll, I overlaid with a piece of black Mesh that has small Gold Star design. it changed the look dramatically.
Back of the dress: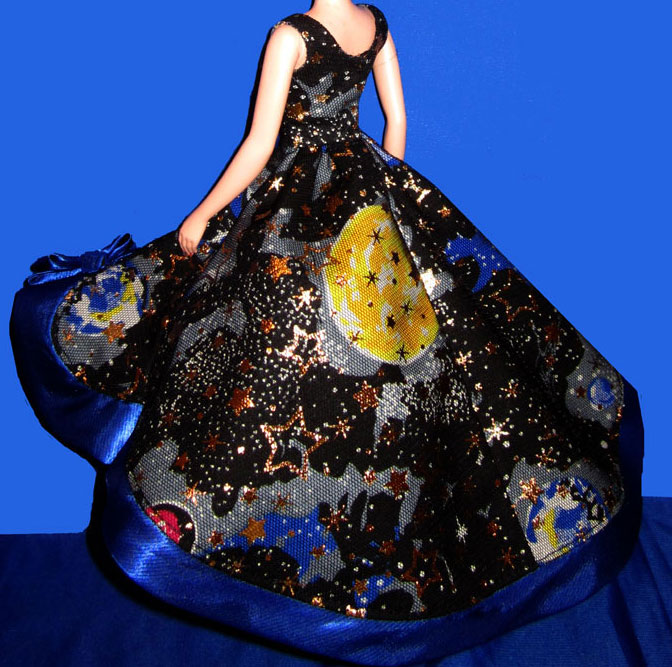 As 2016 Barbie Convention Approach, I will be making a few more space themed dresses for Barbie. I plan to custom-design fabrics for Barbie when I have the fund
4 Responses to "Cosmos Couture"
March 26, 2017 at 12:10 pm

Lovely!! Are you going to convention? 2here is your sales page? I do need a table host gift!! I want to keep my eye on what you create that may work for me.

March 26, 2017 at 12:24 pm

sorry, Stephanie, I am not going to the Convention, 2015 Convention was my last. wish you great fun time at 2017 Convention.

I have 2 fabric designs that are perfectly fit the convention theme, I'll have them printed next month. I plan to revive my abandoned Etsy shop when I have the new fabric. Please Pay a little visit to my ETSY store in the middle of April: https://www.etsy.com/shop/dollsaga

March 26, 2017 at 12:46 pm

That's a really lovely dress, Helen…really like how you bound the skirt in that rich blue fabric. The mesh has truly created a deep space look, very clever!

March 26, 2017 at 1:09 pm

Thanks, Becky. Are you going to the 2017 Convention? sorry to say that my convention days are over. but think positive, the money saved allows me to buy more dolls and fabrics. lol
Sorry, the comment form is closed at this time.