Welcome to 2017
Posted by helen on January 1, 2017
Happy 2017 & wish you a  fun-filled new year…
Many Barbie collectors  found the 2016 Barbie Collection less satisfactory and made a very few purchases.  May 2017 bring  all of us some new exciting dolls.
My new year resolution would be "less dolls, more dresses"  –I'll focus on collecting doll fashions instead of dolls.  Doll fashions are easy to handle, I don't have to deal with aging dolls'  sticky legs, glue heads, cracked necks, yellow faces, etc.
This white Lace dress is the same style as the blue dress I made last week, only this one is fully lined,  it has nearly 20 little panels, patching them together precisely isn't an easy task.  my patience is tested.  I could have simplified it, but I wanted to honor the original design.
May you glide into the new year with balance, stability & happiness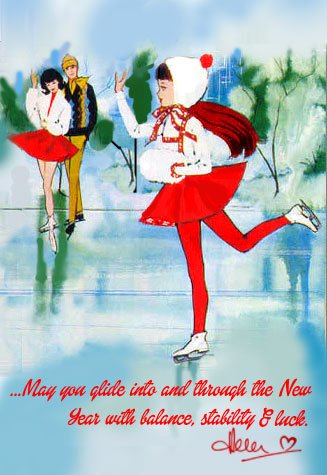 2 Responses to "Welcome to 2017"
January 1, 2017 at 9:14 pm

Thank you for the calendar page as well as a look at your newest creation. Did you design the dress? Where do you get the "graphics" (not sure if that's the right word) for your calendars? Happy New Year, Helen! May it hold more happiness for you.

January 2, 2017 at 10:43 am

thank you Becky. the Dress is a replica of a vintage Design. I didn't design it, but "copied it".
The "Graphics" are created with Adobe Photoshop/Illustrator.

Sorry, the comment form is closed at this time.