Winter Blues
Posted by helen on December 5, 2016
Blue will be the theme color of my holiday doll display—as it is very much the mood many people are in right  now.
Inspired by the blooming Peach trees near my apartment building,  I made this dress:
The weather is not "unseasonably warm", all the radiators in my apartment are heating up,  but strange enough, the peach trees are blooming again–they  blossomed in this early spring, Now they are flowering again! Bad omen or good omen?  its against the nature rules, so perhaps its not a good thing.
well, this Barbie girl snatched a little branch when our Super wasn't watching… sorry, couldn't help, b/c it is just too strange to see Peach flowers in the winter.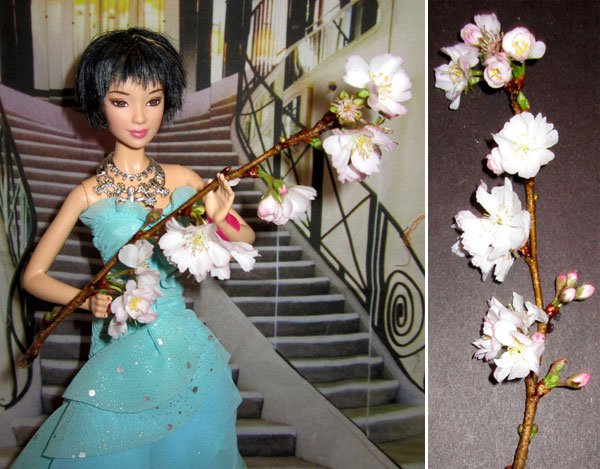 who turned the flowers  into blue? not me,  let's  blame the politicians!

I'll need a bunch of blue dresses to fill up my "showcases",  this is the first:
3 Responses to "Winter Blues"
December 5, 2016 at 7:16 pm

Very pretty! I really like your display.

December 6, 2016 at 8:19 am

Oh dear, peach blossoms in December…mmm, doesn't sound right, does it? Thanks for showing off your pretty creation.
Sorry, the comment form is closed at this time.