Happy Thanksgiving!
Posted by helen on November 24, 2016
Turkey Day!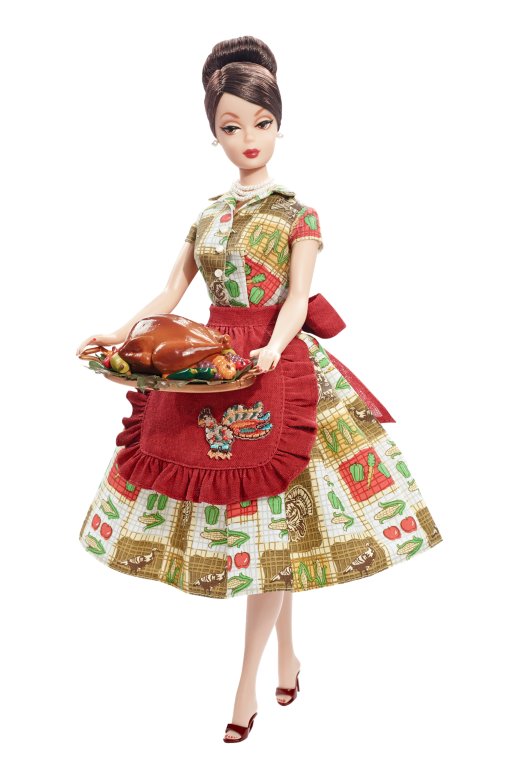 My Thanksgiving Hostess Barbie has left me for a new family a few years ago,  I decided to let Joan be the holiday  hostess this year.  she looks like a fantastic hostess:
but she is an inexperienced cook,  the minute she left the Turkey unattended,  a disaster happened:
The burnt turkey ruined her Thanksgiving Feast! 😦
Okay, I have a confession to make, the burnt Turkey was my fault, not Joan's.  I have some Polymer that I bought years ago,  they all dried up &  are hard as rock.  I didn't want to throw them away, so I mixed vegetable oil to soften the polymer clay.  Finally, I  was able to shape up a Turkey, then I put it in an oven and went on  doing other things,  when I came back to the kitchen,  I saw the black smoke.  I never knew Polymer could get burnt.  perhaps the oil caused the burning?   lol
Thankfully, Joan does not complain. 🙂
Wishing  everyone  a very happy Thanksgiving, enjoy your family & feast:
5 Responses to "Happy Thanksgiving!"
November 25, 2016 at 5:28 am

You did a good job with the turkey! What a shame it got burnt.

November 25, 2016 at 9:55 pm

It looked very real.

November 26, 2016 at 3:52 pm

Thanks for the pretty greeting, Helen. I trust your day was nice.
Sorry, the comment form is closed at this time.