URBFC 2016 Barbie Convention Raffle Dolls
Posted by helen on July 23, 2016
I was asked to make 2016 convention Raffle dolls for the URBFC club nearly a  year ago, but I didn't do a thing until there was absolutely no time left. I'm not attending Barbie Convention,  I had to finish them then send to a friend who drove to the Convention early this week.  I managed to rush them out on last Thursday via Priority 2 Day Mail,   it was a 6 LBS package, the postage cost me an arm & a leg–that's a punishment for being late.
if you are a regular convention raffle room goer, you probably know that URBFC's donation has always been  one large lot that includes  many outfits, accessories, furniture, etc.  but this year,  one of the  Raffle Chairs said to me she may split the donation  into 2 lots, I m not sure what the final decision is..  One-lot is more exciting for the Winner,  2-lots would have more winners (perhaps not, one lucky  person can win both)
I m posting the part I have done,  I don't know what other members have donated, would like to see them.
"All Star" Pop Portraits
A dropwaist ballgown features the old Hollywood stars Barbie & ken have portrayed. Marilyn Monroe, Grace Kelly, Liz Taylor, Vivien Leigh, Audrey Hepburn, James Dean… all are on one screen.
The original doll was LuciAna, Donated by our club member Cat.  I gave her a makeover to match the dress.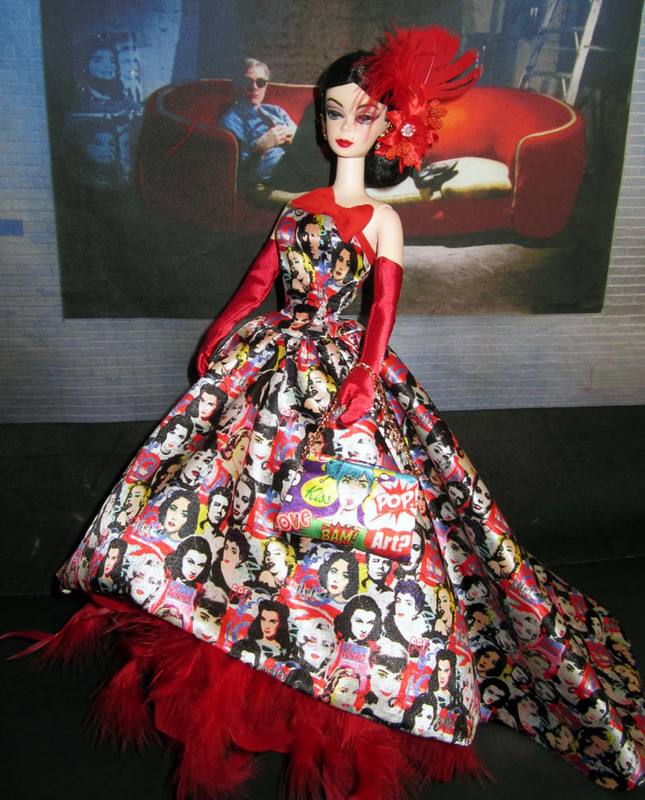 "Love" earrings.
The other doll is Poseable,  she was the Little Black Dress, donated by our club president Mike.  as many people don't like her unflattering elbow joints,  I decided to let her wear long sleeve Jumpsuit, so  the joints would not be seen.
The doll dresses up for one of Convention  themes "Urban Graffiti" ,  The fabric design was inspired by the famous Graffiti Wall in NYC (Bowery Mural)   I took a photo of the wall then photoshopped  some Barbie heads on it.
I confess,  the original plan was to make the red couch and pose the doll just like they way Andy Warhol sit. but I ran out of time and could not find all the Materials I needed to make the Couch in time.  so  she sits on the floor.   😦
Then I remembered the Popsicle Chair I made, although badly painted, its better than Floor. lol
adding a couple of fashion packs, they all fit Poseable silkstone: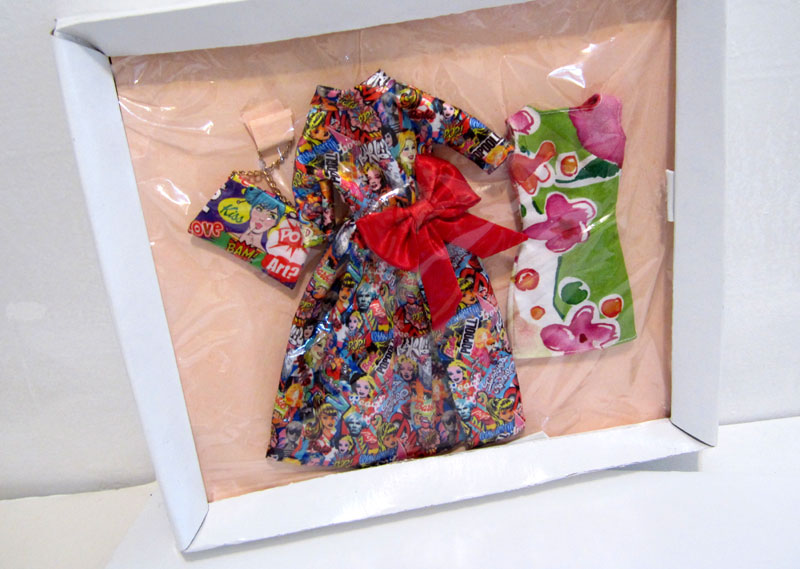 after looking at these photos again, I noticed I forgot to sew a couple of faux buttons at the front of the dress. that's what happens when everything is done in a big rush.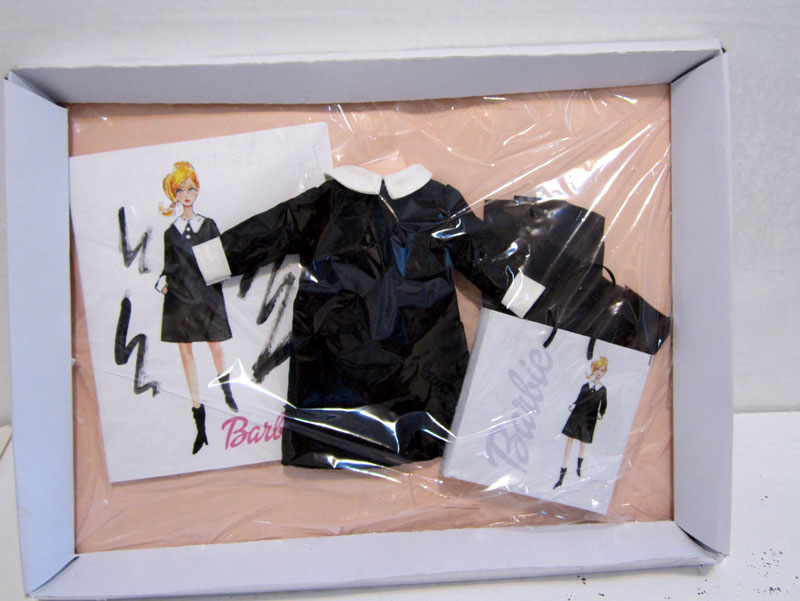 Happy Convention to all the Convention Attendees.
6 Responses to "URBFC 2016 Barbie Convention Raffle Dolls"
July 23, 2016 at 12:42 pm

Sometimes last minute projects provide the most creativity! Lovely. Enjoy.

July 23, 2016 at 12:53 pm

Thank you, Romona. "last minute" brings great pressures & lots frustrations. an old habit die hard–the same thing would happen next time.

July 26, 2016 at 8:27 pm

Awesome job, Helen!

August 3, 2016 at 1:39 am

Hi Helen
I was the lucky winner of these lovely dolls. They are beautiful!! Thanks so much for contributing them to the raffle room. Unfortunately when they packed them up they lost the red glasses the blonde doll was wearing do you know where I can get another pair? Thanks again 😎
Sorry, the comment form is closed at this time.